Woven Bond: Sephiroth - Dark(Sephiroth)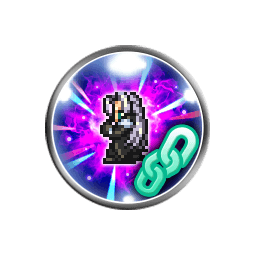 Stats
| | |
| --- | --- |
| Effect | Instantly activate a dark chain up to 150 hits long, or increase max hits by 25 if a dark chain is already active, deal ten physical dark and non-elemental attacks with Cap Break Level increased by 1 to one enemy, temporarily grant the user Chain Force Mode: Sephiroth - Dark, and remove ATB charge time on the user's next turn. |
| Target | - |
| Limit Gauge Cost | 1 |
| Used by | Sephiroth |
| Max Rank | 10 |
Chain Soul Break Mechanics
Effect

None

Chain Type

Dark element attacks

Limit Break
Details

Increase max hits by 25.
* Max hits only increase if a chain of the same element or realm is already active.
Chain Force Mode: Sephiroth - Dark
Trigger the follow-up ability Dark Guidance: Sephiroth each time a dark chain reaches a certain number of hits (every 100 hits, up to one time).


Dark Guidance: Sephiroth
Increase the damage of the user's dark abilities a large amount for one turn.