True Punishing Meteor(Gogo (VI))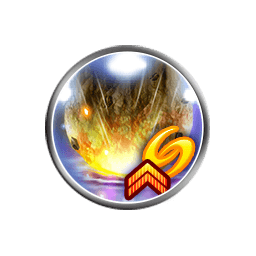 Stats
| | |
| --- | --- |
| Effect | Temporarily raise the user's Attack, Magic, and Mind up to a large amount, and Defense and Resistance up to a moderate amount, depending on the number of allies that remain in the battle, temporarily grant the user Sync Mode, increase the user's Cap Break Level by 1, grant the user Protean Mode III, and while in Sync Mode, grant the user Mysterious Mimic. Triggers instantly. |
| Target | - |
| Soul Gauge | 2 |
| Used by | Gogo (VI) |
| Max Rank | 5 |
Sync
Name
Effect

Tetra Magic

Deal six physical or magic fire, ice, wind, earth, and non-elemental attacks to one enemy. Attack type depends on the user's stats.

Sync Requirements

Combat or Black Magic Abilities

Magical Fusion

Instantly deal physical or magic fire, ice, wind, earth, and non-elemental damage to one enemy, with a bonus effect that depends on whether the user has Mysterious Mimic. Attack type depends on the user's stats.

Sync Requirements

Combat or Black Magic Abilities
Protean Mode III
Using a fire, ice, wind, or earth ability as the next action temporarily grants the user a moderate Empowered Infusion for the same element as the ability that triggered it.
Impersonation Mode
Cause fire, ice, wind, and earth abilities used by allies other than the user to trigger the user's follow-up ability Restored Mimicry. The third time Restored Mimicry triggers, remove Impersonation Mode.

Magical Fusion
Instantly deal physical or magic fire, ice, wind, earth, and non-elemental damage to one enemy, with a bonus effect that depends on whether the user has Mysterious Mimic. Attack type depends on the user's stats.
Mysterious Mimic not granted to user
Effect 1: Reduce delay of the user's actions for two turns.
Mysterious Mimic granted to user
Effect 2: Increase the damage of the user's fire, ice, wind, and earth abilities a moderate amount for two turns, increase the user's Cap Break Level by 1 for two turns, temporarily grant the user Impersonation Mode, and remove Mysterious Mimic.
Restored Mimicry
Mimic the previous action used by an ally. Mimics most actions.