Trinity Boost(Edgar)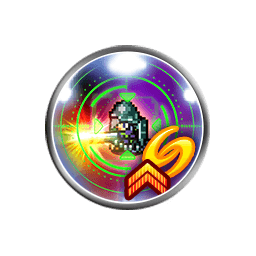 Stats
| | |
| --- | --- |
| Effect | Deal fifteen ranged physical poison, fire, lightning, and non-elemental attacks to one enemy, temporarily grant the user Sync Mode, increase the user's Cap Break Level by 1, grant the user Change Machinery Mode III, and cause every third Sync Ability used by the user to trigger the follow-up ability Bravo Shot. |
| Target | - |
| Soul Gauge | 2 |
| Used by | Edgar |
| Max Rank | 5 |
Sync
Name
Effect

Hexa Boost

Deal six ranged physical poison, fire, lightning, and non-elemental attacks to one enemy, and increase the damage of the user's machinist abilities a moderate amount for one turn.

Sync Requirements

Machinist Ability

Royal Courage

Deal three ranged physical poison, fire, lightning, and non-elemental attacks to one enemy, and reduce delay of the user's actions for one turn, with a bonus effect that depends on whether Sabin or Relm is in the party every second time the user triggers this ability.

Sync Requirements

Machinist Ability
Change Machinery Mode III
Using a poison, fire, or lightning ability as the next action temporarily grants the user a moderate Empowered Infusion for the same element as the ability that triggered it.

Royal Courage
Deal three ranged physical poison, fire, lightning, and non-elemental attacks to one enemy, and reduce delay of the user's actions for one turn, with a bonus effect that depends on whether Sabin or Relm is in the party every second time the user triggers this ability.
Neither Sabin or Relm in party
Effect 1: Temporarily lower the poison, fire, and lightning resistance levels of one enemy by 1.
Effect 2: Temporarily lower the elemental resistance levels of one enemy by 1.