Tidal Wave(Rikku)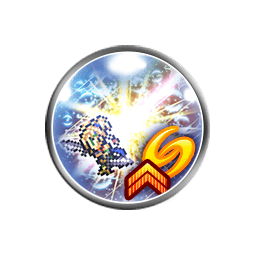 Stats
| | |
| --- | --- |
| Effect | Deal fifteen physical water and non-elemental attacks to one enemy, temporarily grant the user major Empowered Infusion for water, temporarily grant the user Sync Mode, increase the user's Cap Break Level by 1, and enter Eccentrick Mode. |
| Target | - |
| Soul Gauge | 2 |
| Used by | Rikku |
| Max Rank | 5 |
Sync
Name
Effect

Potato Masher

Deal six physical water and non-elemental attacks to one enemy.

Sync Requirements

Water Ability

Prime Twin Stars

Trigger Hot Spurs, and consume all the user's components. The effects of Hot Spurs depend on the number of components the user has (0 to 2).

Sync Requirements

Thief Ability
Eccentrick Mode
Temporarily give the user two components to alter the effects of Prime Twin Stars, and while Sync Mode is active, give the user one component each time Potato Masher is used (up to 2).

Hot Spurs
The effect depends on the number of components.
Reduce delay of the user's actions for two turns.
Increase the critical hit damage of all allies for two turns.
Temporarily increase the critical hit chance of all allies based on the number of times Prime Twin Stars has triggered (up to 100% at rank 2), and increase their water attack level by 1.