Rising Tone(Kefka)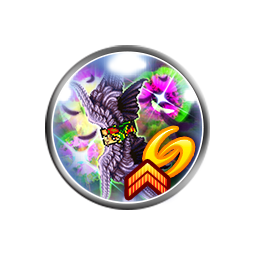 Stats
| | |
| --- | --- |
| Effect | Deal fifteen magic dark, poison, and non-elemental attacks to one enemy, temporarily grant the user Sync Mode, increase the user's Cap Break Level by 1, grant the user Twin Element Mode III, grant the user Mental Collapse Mode, and grant the user a barrier that reduces the damage of one attack a moderate amount. |
| Target | - |
| Soul Gauge | 2 |
| Used by | Kefka |
| Max Rank | 5 |
Sync
Name
Effect

Liftoff

Deal six magic dark, poison, and non-elemental attacks to one enemy, and reduce delay of the user's actions for one turn.

Sync Requirements

Dark or Poison Abilities

Boom-Boom Ultima

Deal magic dark, poison, and non-elemental damage to one enemy, and increase the damage of the user's dark and poison abilities a moderate amount for one turn. Can break the damage cap.

Sync Requirements

Dark or Poison Abilities
Twin Element Mode III
Using a dark or poison ability as the next action temporarily grants the user a moderate Empowered Infusion for the same element as the ability that triggered it.
Mental Collapse Mode
Temporarily trigger the follow-up ability Hyperdrive Kick when a Damage Reduction Barrier reduces damage. The fifth time Hyperdrive Kick triggers, remove Mental Collapse Mode.