Peridot Thunder(Garnet)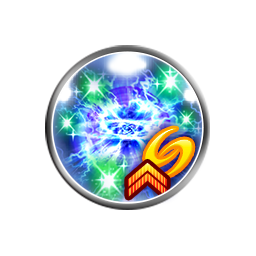 Stats
| | |
| --- | --- |
| Effect | Deal fifteen summon magic lightning and non-elemental attacks to one enemy, temporarily grant the user major Empowered Infusion for lightning, temporarily grant the user Sync Mode, increase the user's Cap Break Level by 1, grant the user Princess's Resolve Mode, enter Trance, and cause every third Sync Ability used by the user to grant Trance. |
| Target | - |
| Soul Gauge | 2 |
| Used by | Garnet |
| Max Rank | 5 |
Sync
Name
Effect

Eidolon Justice

Deal six summon magic lightning and non-elemental attacks to one enemy, and increase the damage of the user's lightning abilities a moderate amount for one turn.

Sync Requirements

Summoning Ability

Song of Memories

Instantly restore a very large amount of HP to one ally. If the user is in a Trance, instead instantly restore a large amount of HP to all allies, grant all allies a barrier that reduces the damage of one attack a large amount, and remove the user's Trance.

Sync Requirements

Bard or White Magic Abilities
Princess's Resolve Mode
Temporarily cause summoning abilities used by the user to trigger an additional time, cause the third summoning ability used by the user to trigger the follow-up ability Thundercloud Strike, and remove Princess's Resolve Mode when Thundercloud Strike is triggered.
Trance
Temporarily raise some of the user's stats a moderate amount, and reduce delay of their actions.

Thundercloud Strike
Deal summon magic lightning and non-elemental damage to one enemy. Can break the damage cap.