Guardian Lady Lilith(Lilisette)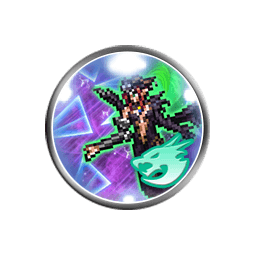 Stats
| | |
| --- | --- |
| Effect | Instantly lose control of allies, and briefly summon Lady Lilith. The effect depends on the number of Limit Break Gauge bars depleted. |
| Target | - |
| Limit Gauge Cost | 1-3 |
| Used by | Lilisette |
| Max Rank | 7 |
Guardian Abilities
| | Name | Effect |
| --- | --- | --- |
| | Guardian Durance Whip | Instantly deal physical lightning, wind, and non-elemental damage to one enemy, briefly lower its Defense, Resistance, and Mind a very large amount, and cast Dispel on it. Can break the damage cap. |
| | Guardian Moonlight Veil | Instantly deal three physical lightning, wind, and non-elemental attacks to one enemy, and briefly lower its elemental resistance levels by 1. |
Effects granted by Guardian when summoned
Grant Protect, Shell, and Haste to the user. -Fill the user's ATB Gauge when summoned.
Temporarily raise the user's Defense and Resistance a very large amount.
Temporarily grant the user major Empowered Infusion for lightning.
Temporarily increase the user's Cap Break Level by 2.
Temporarily grant the user a barrier that reflects a portion of damage taken back at the attacker as damage that can break the damage cap (700%).
Grant the user Last Stand.