Flaming Bond(Bartz)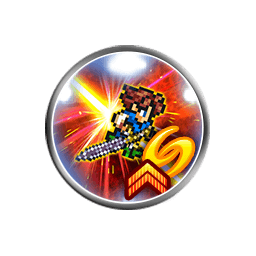 Stats
| | |
| --- | --- |
| Effect | Deal fifteen physical fire and non-elemental attacks to one enemy, temporarily grant the user major Empowered Infusion for fire, temporarily grant the user Sync Mode, increase the user's Cap Break Level by 1, and grant the user Flame Resolve Mode. |
| Target | - |
| Soul Gauge | 2 |
| Used by | Bartz |
| Max Rank | 5 |
Sync
Name
Effect

Firaga Barrage

Deal six physical fire and non-elemental attacks to one target, and reduce delay of the user's actions for one turn. Damage dealt increases each time the user triggers this ability (up to rank 4).

Sync Requirements

Fire Ability

Pyroblade Strike

Deal physical fire and non-elemental damage to one enemy, and remove delay from the user's actions for one turn. Can break the damage cap.

Sync Requirements

Fire Ability
Flame Resolve Mode
Cause fire abilities used by allies other than the user to trigger the follow-up ability Blade of Embers. The fourth time Blade of Embers triggers, remove Flame Resolve Mode, triggering the follow-up ability Flaming Soul Dance when Flame Resolve Mode ends.


Blade of Embers
Deal three physical fire and non-elemental attacks to one enemy, and temporarily raise the user's fire attack level by 1.
Flaming Soul Dance
Cause spellblade abilities used by the user on the next turn to trigger an additional three times.