Crown of Arms(Firion)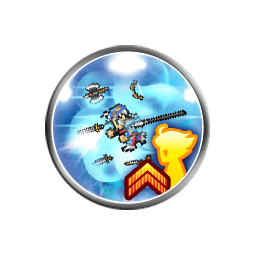 Stats
| | |
| --- | --- |
| Effect | Deal fifteen physical holy, ice, fire, and non-elemental attacks to one enemy, temporarily grant the user Awoken Mastery Mode, increase the user's Cap Break Level by 1, grant the user Tri-Element Mode II, and cause every second holy, ice, or fire ability used by the user to trigger the follow-up ability Wild Rose Axiom. |
| Target | - |
| Soul Gauge | 2 |
| Used by | Firion |
| Max Rank | 15 |
Awakening
| | |
| --- | --- |
| Awoken Mode | Awoken Mastery Mode |
| Awoken Mode Effects | Grant unlimited use of holy, ice, and fire abilities, reduce delay of the user's holy, ice, and fire abilities based on their rank, and cause holy, ice, and fire abilities used by the user to trigger the follow-up ability Weapon Waltz. |
Tri-Element Mode II
Using a holy, ice, or fire ability as the next action temporarily grants the user Empowered Infusion for the same element as the ability that triggered it.


Wild Rose Axiom
Increase the user's physical damage a moderate amount for one turn, and set the user's critical hit chance to 100% for one turn.
Weapon Waltz
Deal four, six, or eight physical holy, ice, fire, and non-elemental attacks to one enemy. Deals more attacks the higher the user's remaining HP.