Chain Thunder Play(Shantotto)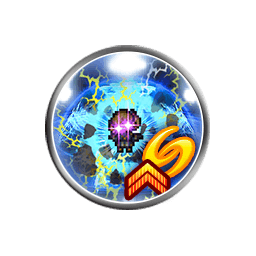 Stats
| | |
| --- | --- |
| Effect | Deal fifteen magic lightning and non-elemental attacks to one enemy, temporarily grant the user major Empowered Infusion for lightning, temporarily grant the user Sync Mode, increase the user's Cap Break Level by 1, grant the user Federation Blackblood Mode, grant Play Rough to the user, and grant the user a barrier that reduces the damage of one attack a moderate amount. |
| Target | - |
| Soul Gauge | 2 |
| Used by | Shantotto |
| Max Rank | 5 |
Sync
Name
Effect

Elegant Fulmination

Deal seven magic lightning attacks to one enemy. Triggers after a long delay.

Sync Requirements

Witch Ability

Crackling Thunder

Instantly deal magic lightning and non-elemental damage to one enemy, remove delay from the user's actions for one turn, and increase the damage of the user's witch abilities by a moderate amount for one turn.

Sync Requirements

Witch Ability
Play Rough
Temporarily lower the user's Defense and Resistance a moderate amount, raise the user's Magic a moderate amount, and reduce delay of the user's actions.
Federation Blackblood Mode
Temporarily trigger the follow-up ability Quick Barrier when a Damage Reduction Barrier reduces damage. The fifth time Quick Barrier triggers, remove Federation Blackblood Mode.


Quick Barrier
Remove the user's ATB charge time once, and grant the user a barrier that reduces the damage of one attack a moderate amount.