Burst Blade(Squall)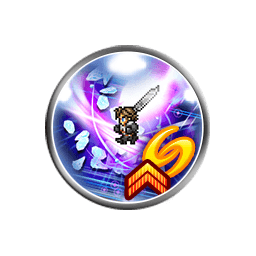 Stats
| | |
| --- | --- |
| Effect | Deal fifteen physical ice, fire, and non-elemental attacks to one enemy, temporarily grant the user Sync Mode, increase the user's Cap Break Level by 1, grant the user Switch Draw Mode III, grant the user Junk Shop Mode, and enter Draw Revolver Mode. |
| Target | - |
| Soul Gauge | 2 |
| Used by | Squall |
| Max Rank | 5 |
Sync
Name
Effect

Renzokuken Frostfire

Deal five to eight physical ice, fire, and non-elemental attacks to one enemy. Number of attacks depends on the user's Weapon Mod rank.

Sync Requirements

Spellblade Ability

Custom Revolver

Instantly deal three physical ice, fire, and non-elemental attacks to one enemy, grant Weapon Mod to the user, and increase its rank by 1 (up to rank 3).

Sync Requirements

Spellblade Ability
Switch Draw Mode III
Using an ice or fire ability as the next action temporarily grants the user a moderate Empowered Infusion for the same element as the ability that triggered it.
Junk Shop Mode
Reduce delay of the user's actions, and each time the user triggers Custom Revolver, increase the user's critical hit chance to 50%, 75%, then 100% (up to rank 3).
Draw Revolver Mode
Cause spellblade abilities used by the user to trigger the follow-up ability Burst Trigger.