Brave Story(Ramza)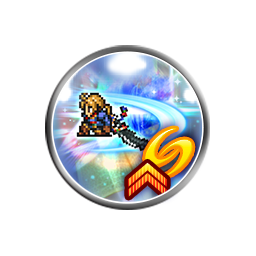 Stats
| | |
| --- | --- |
| Effect | Deal fifteen physical holy and non-elemental attacks to one target, temporarily grant the user major Empowered Infusion for holy, temporarily grant the user Sync Mode, increase the user's Cap Break Level by 1, and grant the user Vigilance Mode, causing each use of True Hero's Blade by the user in Sync Mode to increase their Vigilance Level by 1, enhancing the effect of Ultra Boost (up to level 2). |
| Target | - |
| Soul Gauge | 2 |
| Used by | Ramza |
| Max Rank | 5 |
Vigilance Mode
While in Sync Mode, cause each use of True Hero's Blade by the user to increase their Vigilance Level by 1, enhancing the effect of Ultra Boost (up to level 2).

Ultra Boost
The effect depends on the user's Vigilance Level.
Remove delay from the user's actions for two turns.
Increase the critical hit damage of all allies for two turns.
Temporarily set the critical hit chance of all allies to 100%.