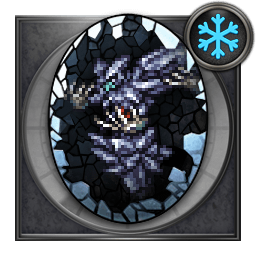 Rarity:4
Element:Ice
Series:FF VIII
Magicite Effects
Image
Name
Starting Value
Max

Dampen Air
Lv 4
Lv 10

Increases the wind resistance of all allies.

Defense Boon
Lv 5
Lv 15

Increases the Defense of all allies, proportional to combined magicite stats.

Blade Ward
Lv 2
Lv 5

Decreases physical damage taken by all allies.
Magicite Ultra Skill
| Image | Name | Description |
| --- | --- | --- |
| | Ultra Flash-Freeze | Deal five magic ice attacks to all targets, and grant all allies a barrier that negates wind damage up to 30% of the combined magicite max HP. |
Magicite Skills
Image
Name
Trigger Rate
(Starting Value)
Trigger Rate
(Max)

Blizzara
20%
50%

Deal two magic ice attacks to one target.

Charge
70%
10%

Deal two physical attacks to one target.

Dextral Claws
10%
40%

Deal three ranged physical ice attacks to one target.
Stats
| | | |
| --- | --- | --- |
| | Starting Value | Max |
| Lv | 1 | 99 |
| HP | 120 | 3484 |
| Attack | 5 | 203 |
| Defense | 3 | 120 |
| Magic | 13 | 240 |
| Resistance | 11 | 209 |
| Mind | 7 | 212 |
| Speed | 81 | 140 |