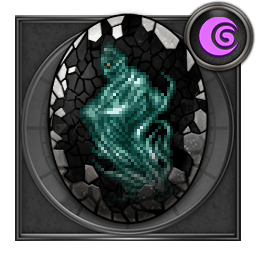 Rarity:3
Element:Dark
Series:FF VI
Magicite Effects
Image
Name
Starting Value
Max

Attack Boon
Lv 2
Lv 10

Increases the Attack of all allies, proportional to combined magicite stats.

Empower Dark
Lv 3
Lv 10

Increases the dark damage of all allies and their espers.
Magicite Ultra Skill
| Image | Name | Description |
| --- | --- | --- |
| | Ultra Ghostly Veil | Grant all allies an elemental barrier, enabling them to avoid one holy attack, and temporarily raise their holy resistance level by 2. Effective against most holy attacks. |
Magicite Skills
Image
Name
Trigger Rate
(Starting Value)
Trigger Rate
(Max)

Death
10%
40%

Moderate chance to Instantly KO one target. Can trigger when an enemy without Instant KO resistance is present.

Banish
20%
50%

Grant one ally an elemental barrier that enables them to avoid one holy attack.

Dark
70%
10%

Deal magic dark damage to all targets.
Stats
| | | |
| --- | --- | --- |
| | Starting Value | Max |
| Lv | 1 | 99 |
| HP | 192 | 4002 |
| Attack | 6 | 192 |
| Defense | 4 | 148 |
| Magic | 8 | 234 |
| Resistance | 7 | 182 |
| Mind | 6 | 195 |
| Speed | 52 | 112 |