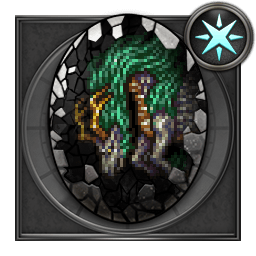 Rarity:3
Element:Holy
Series:FF VI
Magicite Effects
Image
Name
Starting Value
Max

Healing Boon
Lv 3
Lv 5

Increases the effect of healing on all allies.

Empower Holy
Lv 3
Lv 10

Increases the holy damage of all allies and their espers.
Magicite Skills
Image
Name
Trigger Rate
(Starting Value)
Trigger Rate
(Max)

Regen
70%
10%

Grant Regen to one ally.

Holy Aura
5%
20%

Grant Regen to all allies.

Cura
25%
70%

Restore a moderate amount of HP to one ally.
Stats
| | | |
| --- | --- | --- |
| | Starting Value | Max |
| Lv | 1 | 99 |
| HP | 192 | 4002 |
| Attack | 6 | 192 |
| Defense | 4 | 148 |
| Magic | 8 | 234 |
| Resistance | 7 | 182 |
| Mind | 6 | 195 |
| Speed | 52 | 112 |