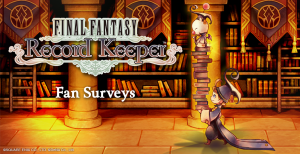 Which FINAL FANTASY boss battle made the biggest impression on you?
Welcome to the comment thread for
"
Which FINAL FANTASY boss battle made the biggest impression on you?
"
We're waiting to hear from you!
Here is a small selection of responses to the topic.
---
Name: Fenrir
For me , it has to be X-ATM092 from FFVIII, the feeling of being chased over and over from a mechanical black spider( I love ver design) was so epic and at the same time so scary ! It was a mixture of indescribable feelings !!!

---
Name: Sawam
Ruby and Emerald Weapons, FFVII.

---
Name: Ifrit
FF XII: Gilgamesh. He was one of the most fun and difficult battles to fight in the game. I also like the way he is portrayed in battle. After every 20% he has a mini cut scene that shows his personality and he takes out a knockoff of a famous sword.

---
Name: TheSpoonyBard
FFXI Promathia fight - End of CoP Expansion. Prishe drop kicks Promathia to make him drop his shields. That girl is FIERCE.

---
Name: Ace
Has to be Sephiroth from FFVII... still the best storyline of all FF's

---
Name: Shaggy42oh
The emotional fight with Kuja in IX.

---
Name: Sabin
The battle against Cecil's dark side, where you have to refrain from attacking him at all.

---
Name: sslrranma
Wasn't the hardest boss in Final Fantasy, but Kefka in FF6.When you finally get to him, you set up your entire party to fight him and all 3 statues again. The enormity of the monstrosity of what your fighting with the amount of bodies your throwing at him make it an epic moment.

---
Name: Mommadork
Every Ultros battle! When I was a kid playing FFVI, I was shocked and thrilled every time he made yet another appearance. I laughed at all the dorky jokes (Uncle Ulty! Bwahaha!). I'm working through a playthrough with my kids now, and Ultros is their favorite enemy, too.

---
Name: Magus
Every fight against the massive whale behemoth that is Sin in FFX.

---
Name: Fikko3107
Gilgamesh, second battle, FFV. Besides that, Shinryu from FFV was also memorable for me. See, I'm an obsessive grinder, and Shinryu was the only boss in FFV that I actually had to struggle to beat. (Omega was easy. Shinryu, I had no Dragon lances.)

---
Name: Malavar
FFVIII: Omega Weapon after playing the organ, the "Level 5" death ability he used was wicked and not to mention he was incredibly difficult on all respects. A great challenge for all

---
---
Name:
Miguelin
FF ix steiner and beatrix fight for alexandria with the music "protecting my devotion" from Nobuo Uematsu
---
Name:
Eshaqil
for XIII, definitely all eidolon battles:)
---
See all of the responses below!
Got an idea for a new fan survey? Let us know
here
!