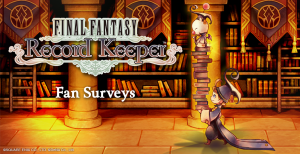 Which FINAL FANTASY world would you most like to visit?
Welcome to the comment thread for
"
Which FINAL FANTASY world would you most like to visit?
"
Tell us the reason why!
We're waiting to hear from you!
Here is a small selection of responses to the topic.
---
Name: Kaiyoria
Final Fantasy VII So I could slap Sephiroth and tell him to stop being such a momma's boy lol

---
Name: Shoukanju
FFVIII, From the bustling Deling City, to the peaceful Fisherman's Horizon and the space-age Esthar City... plenty of sights and sounds to behold! (Having no apocalyptic threat is a plus!)

---
Name: Summoner Tuna
VIII! I want to enroll in Balamb Garden!

---
Name: Chin
Eruyt Village (Viera Forest) - FFXII I Love SEXY BUNNY Viera !!

---
Name: Esh4780
FF7 and live as close to Tifa as possible. <3

---
Name: Celes
Gaia FF IX. Lindblum and Alexandria are beautiful cities Madain Sari and Black Mage village also seem like awesome places to visist

---
Name: Sylvia
The VIII it has everything you want in the world of fantasy magic,school, machine,monsters also the way you learn to fight not just a certain characters can learn certain things but every characters can learn it and that's what makes FF VIII special

---
Name: Rainboy
Farplane in FFX. such an exquisite place, finding something you shouldn't be able to, reminiscing things you should never have.

---
Name: PhoenixFireeye
I'd go to FFiv and climb Mt Ordeals and become a paladin then fly to the moon in a giant whale.

---
Name: Kasenji
Ivalice. Rabanastre is the best home town i've ever seen in any video game, hands down, and the rest of the world is just beautiful.

---
Name: Coronius
I would go to FFVII and spend all my time and Gil at the Gold Saucer, eventually being absorbed Tron-style into the Mog House game where I would spend eternity learning how to fly and mating, kupo!

---
Name: Mira
Although they are terrorized by Sin, I think Spira is such a beautiful world! The cozy villages, the exciting city of Luca and the breathtaking landscapes are all gorgeous!

---
---
Name:
Joshua
Final Fantasy XII!! I'd love to journey across Ivalice in the Strahl.
---
Name:
Martin
Final Fantasy VIII. Magic and Technology at the same time? Sign me up!
---
Name:
Michael
The world of Record Keeper so I can visit them all of course. I may not hang out in some as much but all would be possibilities
---
See all of the responses below!
Got an idea for a new fan survey? Let us know
here
!