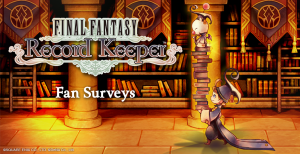 What is your favorite piece of FINAL FANTASY music?
Welcome to the comment thread for
"
What is your favorite piece of FINAL FANTASY music?
"
We're waiting to hear from you!
Here is a small selection of responses to the topic.
---
Name: SirAdder
Final Fantasy 5 : The Battle Of The Big Bridge Great music and intense during gilgamesh's final encounter.

---
Name: G
Final Fantasy VII - The Promised Land

---
Name: Onebreath
TO ZANARKAND! FFX I even had it playing in the background as I proposed to my wife

---
Name: karlossy
You are not alone - final fantasy IX

---
Name: Coronius
Has to be Celes' theme/Opera music from FFVI (Aria de Mezzo Caraterre): Love goes away, Like night into day, It's just a fading dream It was such an original quest and a very cinematic sequence, I'd never experienced anything like it in an RPG to that point.

---
Name: Finster Ritter
This is hard, considering Final Fantasy games in general have some of (if not the) best soundtracks in video games. That said, I have to go with "To Zanarkand." Its just such a strong emotional piece. Honorable mentions: Terra's Theme, Castle Pandaemonium, Cosmo Canyon, Sunleth Waterscape

---
Name: Hastega
Final Fantasy III has some of the BEST soundtracks: Boundless Ocean Pavilion of Doga & Unei Eternal Wind Dark Crystal...

---
Name: Gorem
Final Fantasy 5 ending, will always be the best!

---
Name: Batman
I'd say the single best one is the main theme.(the one that plays during prologues and endings).It's the most memorable and epic music in all of final fantasy.

---
Name: Josef
Final Fantasy II: The Rebel Army. It's good as 8 bit, good as 16 bit, good as 32 bit, good as 3D, and it's so good they made an orchestra version medley and it's really good too!

---
Name: Shadow
FF4 Boss Battle Theme. Probably the best boss theme I've ever listened to!

---
Name: Yay!
FF1 - Boss Battle A
FF2 - Final Boss Theme
FF3 - Eternal Wind
FF4 - Battle with the Four Fiends <3
FF5 - The Final Battle
FF6 - Save them
FF7 - Still More Fighting
FF8 - Premonition
FF9 - Boss Battle Theme
FF10 - Someday the dream will end
FF13 - Blinded by light

---
---
Name:
Noel
Anything and everything from Final Fantasy IX.
---
Name:
Bul
The Succession of Witches from Final Fantasy VIII
---
Name:
Brandon
Really liking Lightning theme from Final Fantasy XIII
---
See all of the responses below!
Got an idea for a new fan survey? Let us know
here
!