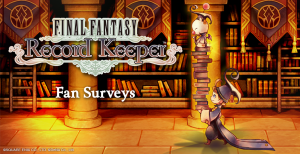 What's the most memorable FINAL FANTASY scene?
Welcome to the comment thread for
"
What's the most memorable FINAL FANTASY scene?
"
We're waiting to hear from you!
Tell us what kind of feelings that scene conjures up for you!
Here is a small selection of responses to the topic.
---
Name: Chin
FF IX: Vivi crying for the Black Mage dolls killed by Black Waltz on the airship.

---
Name: Guest
Memorable moment? The ending of the FF XIII trilogy.

---
Name: Nekokyonshi
FF IX: I'll always love Zidane's scene in Pandemonium accompanied by the lovely "You're Not Alone". :)

---
Name: Vrana
FF VI when Kefka became a god and ruled the world. The most badass villain in all FF series.

---
Name: Menarus
FF VII: Fighting Midgar Zolom for the first time, struggling hardheadedly to beat him, then discovering that Sephiroth had just tossed him onto a tree.

---
Name: Nolet Trant
FFIV, when Palom and Porom save everyone by sacrificing themselves in Baron Castle and turning to statues. The emotion of trying to bring them back...

---
Name: Marius
Lots of good entries. But seriously...
FF VI: The most awesomesauce moment was when Sabin suplexed the Phantom Train.

---
Name: Frenchfraise
FF V: When Galuf sacrifices himself .

---
Name: Leonhart
FF VIII - Squall saving Rinoa in space, and the Sorceress Memorial.
FF X: Reaching Zanarkand for the first time, and the attack on Bevelle.

---
Name: Fansince1987
FF I: The first time I beat the game.

---
Name: JessicaKupo
FF VIII: Favorite game! Rinoa floating in space. One of the most emotional scenes I've ever witnessed in a game. Also loved the ending when the credits are rolling and it looks like someone is recording a party at Balamb Garden! So cute, showcased all the characters personalities really well.

---
---
Name:
Rodrigo
The opera sequence in FFVI is the best!
---
Name:
Tony
The end scene in FFVIII when Laguna visits Raine's gravestone
---
Name:
Riley
FF II: Firion being tricked by the Lamia Queen! XD
---
See all of the responses below!
Got an idea for a new fan survey? Let us know
here
!