Kimahri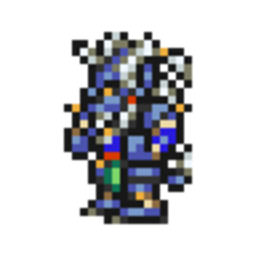 Yuna's Guardian and most trusted ally, Kimahri is a young member of the Ronso tribe. The Ronso take great pride in the horns on their foreheads, which makes Kimahri's broken horn a source of shame and dishonor he struggles to overcome.
World: FF X
Guardian
Role
Physical/Magic Hybrid
Wields spears and daggers. Can use rare dragoon abilities, jumping into the air to avoid attacks before striking the enemy from above.


Memory Crystal III
Hall of Rites


Stats
| | | |
| --- | --- | --- |
| | Starting Value | Lv 99 |
| HP | 202 | 6565 |
| Attack | 11 | 203 |
| Defense | 8 | 141 |
| Magic | 11 | 188 |
| Resistance | 9 | 164 |
| Mind | 10 | 179 |
| Accuracy | 20 | 25 |
| Evasion | 20 | 25 |
| Speed | 92 | 149 |
Soul Break Equipment (Unique)
Super Soul Break Equipment (Unique)
Burst Soul Break Equipment (Unique)
Burst Mode Abilities
| | |
| --- | --- |
| Liquid Drain | Deal four ranged physical water and non-elemental attacks to one target, and restore a small amount of HP to one ally based on their max HP. |
| Liquid Osmose | Deal two ranged physical water and non-elemental attacks to one target, and restore one ability use to the ability with the fewest remaining uses. |
Ultra Soul Break (Unique)
Record Materia
| | |
| --- | --- |
| | Deal slightly more physical damage when a spear is equipped. |
| | Avoid 1 magic attack when low on HP.(Effective against most spells. Can only trigger once per battle.) |
| | Attack has a moderate chance to become Jump. |
| | Attack becomes Jump. |
Legend Materia
| | |
| --- | --- |
| | Increase water damage a small amount. |
| | Moderate chance to counter physical attacks by lowering the attacker's water resistance level by 1. |
| | Deal significantly more physical damage when a spear is equipped. |
Useable Ability
Black Magic
(Rarity 3)
Combat
(Rarity 4)
Support
(Rarity 3)
Dragoon
(Rarity 5)