Yda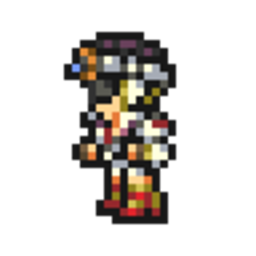 A Hyur pugilist belonging to the Scions of the Seventh Dawn, Yda causes trouble wherever she and her partner, Papalymo, go. A master of the martial arts.
World: FF XIV
Scion of the Seventh Dawn
Role
Physical Attack
Wields swords and fist weapons. Can use rare monk abilities, enhancing her fighting prowess.


Memory Crystal III
Hall of Rites


Stats
| | | |
| --- | --- | --- |
| | Starting Value | Lv 99 |
| HP | 201 | 6543 |
| Attack | 11 | 208 |
| Defense | 8 | 141 |
| Magic | 7 | 120 |
| Resistance | 7 | 128 |
| Mind | 8 | 149 |
| Accuracy | 20 | 25 |
| Evasion | 24 | 30 |
| Speed | 111 | 180 |
Soul Break
| | |
| --- | --- |
| Soul Break | Effect |
| Featherfoot(Yda) | Blur the image of the user, enabling her to avoid one physical attack. |
Soul Break Equipment (Unique)
Super Soul Break Equipment (Unique)
Burst Soul Break Equipment (Unique)
Burst Mode Abilities
| | |
| --- | --- |
| Snap Punch | Deal four physical fire and non-elemental attacks to one target, raise the user's Attack, and grant the user Greased Lightning, reducing the delay of the user's actions (stacks up to three times). |
| Fists of Earth | Grant the user a barrier that negates attack damage up to 30% of their max HP. |
Ultra Soul Break (Unique)
Record Materia
| | |
| --- | --- |
| | Deal slightly more damage with monk abilities. |
| | Attack hits all targets, but deals only light damage. |
| | Attack hits all targets, but deals only moderate damage. |
Legend Materia
| | |
| --- | --- |
| | Increase fire damage a small amount. |
| | Moderate chance for monk abilities to trigger twice. |
| | Small chance to gain a barrier that negates attack damage up to 30% of the user's max HP when using monk abilities. |
Useable Ability
Combat
(Rarity 5)
Support
(Rarity 4)
Monk
(Rarity 5)