Minfilia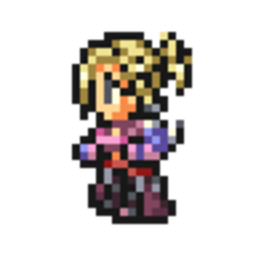 Once head of the Path of the Twelve, later becoming leader of the Scions of the Seventh Dawn. After her father died in an accident, she was gifted with the Echo, the power to see into a person's past. Driven to save Eorzea from the lingering chaos of the Seventh Umbral Era, she searches for heroes with the strength to lead her people.
World: FF XIV
Scion of the Seventh Dawn
Role
Physical Support
Wields swords and shields. Can use rare knight abilities, buffing her defenses and drawing attacks to protect the party.


Memory Crystal
Hall of Rites


Memory Crystal II
Hall of Rites


Memory Crystal III
Hall of Rites


Stats
| | | |
| --- | --- | --- |
| | Starting Value | Lv 99 |
| HP | 210 | 6825 |
| Attack | 11 | 194 |
| Defense | 9 | 160 |
| Magic | 7 | 117 |
| Resistance | 8 | 141 |
| Mind | 11 | 190 |
| Accuracy | 20 | 25 |
| Evasion | 20 | 25 |
| Speed | 77 | 124 |
Super Soul Break Equipment (Unique)
Burst Soul Break Equipment (Unique)
Burst Mode Abilities
| | |
| --- | --- |
| Rage of Halone | Deal two physical holy and non-elemental attacks to one target, and temporarily lower its Attack a large amount. |
| Glory Slash | Deal two physical holy and non-elemental attacks to one target, and temporarily lower its Magic a large amount. |
Burst Mode Abilities
| | |
| --- | --- |
| Goring Blade | Deal four physical holy and non-elemental attacks to one enemy, and increase the damage of the user's knight abilities a small amount for two turns. |
| Full Swing | Deal two physical holy and non-elemental attacks to one enemy, and Dispel it. |
Ultra Soul Break (Unique)
Chain Soul Break (Unique)
Record Materia
| | |
| --- | --- |
| | Gain a small amount of Attack when a shield is equipped. |
| | Gain a moderate amount of Attack when a shield is equipped. |
| | Gain a moderate amount of Attack and a small amount of Defense when a shield is equipped. |
Legend Materia
| | |
| --- | --- |
| | Increase holy damage a small amount. |
| | Moderate chance for knight abilities used by the user to temporarily lower the enemy's holy resistance level by 1. |
| | Increase the duration of stat buffs generated by the user and their related effects a small amount. Applies to most stat buffs and their effects. |
| | Reduce delay of the user's actions for three turns at the start of battle. |
Useable Ability
White Magic
(Rarity 5)
Combat
(Rarity 4)
Support
(Rarity 5)
Knight
(Rarity 5)