Alisaie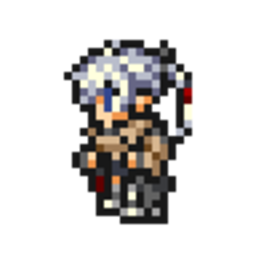 An Elezen, Alisaie is the granddaughter of the sage Louisoix Leveilleur, and twin sister of Alphinaud. A practical young woman, she values actions above words, and takes a different approach from her brother in her own struggle to right the wrongs of Eorzea.
World: FF XIV
Scion of the Seventh Dawn
Role
Master of Magic
Proficient with a variety of weapons and armor, with a focus on rods and swords. Can use rare black magic and white magic abilities, switching between offensive magic and healing as needed.


Memory Crystal
Hall of Rites


Memory Crystal II
Hall of Rites


Memory Crystal III
Hall of Rites


Stats
| | | |
| --- | --- | --- |
| | Starting Value | Lv 99 |
| HP | 179 | 5816 |
| Attack | 9 | 164 |
| Defense | 7 | 116 |
| Magic | 12 | 210 |
| Resistance | 9 | 162 |
| Mind | 10 | 177 |
| Accuracy | 20 | 25 |
| Evasion | 20 | 25 |
| Speed | 92 | 149 |
Soul Break
| | |
| --- | --- |
| Soul Break | Effect |
| Verraise(Alisaie) | Raise one KO'd ally and restore a moderate amount of their HP. |
Ultra Soul Break (Unique)
Chain Soul Break (Unique)
Chain Soul Break Mechanics
| | |
| --- | --- |
| Effect | Increases the damage of FINAL FANTASY XIV heroes a large amount. |
| Chain Type | FINAL FANTASY XIV Hero Attacks |
Details
| | |
| --- | --- |
| Awoken Mode | Awoken Scion Red Mage Mode |
| Awoken Mode Effects | Grant unlimited use of black magic and white magic abilities, grant up to a moderate Black Magic and White Magic Ability Boost, and cause black magic and white magic abilities used by the user to trigger twice. |
Details
1

Black Mana Burst

Deal six magic wind, lightning, and non-elemental attacks to one enemy. If the user has Black Mana, instead deal six magic fire, wind, lightning, and non-elemental attacks to one enemy, followed by an additional magic fire, wind, lightning, and non-elemental attack that can break the damage cap, and consume the user's Black Mana.

Sync Requirements

Black Magic Ability

2

Jolt II

Deal three magic wind, lightning, and non-elemental attacks to one enemy, and increase the damage of the user's black magic abilities a moderate amount for three turns.

Sync Requirements

Black Magic Ability
Record Materia
| | |
| --- | --- |
| | Moderate chance to restore 1 black magic and white magic ability use at the start of battle. |
| | Small chance for white magic abilities to trigger an additional time when used. |
| | Deal much more black magic damage when a sword is equipped. |
Legend Materia
| | |
| --- | --- |
| | Increases black magic damage a small amount. |
| | Moderate chance for black magic and white magic abilities used by the user to trigger an additional time. |
Useable Ability
Black Magic
(Rarity 5)
White Magic
(Rarity 5)
Summoning
(Rarity 4)
Spellblade
(Rarity 5)
Combat
(Rarity 4)