Vayne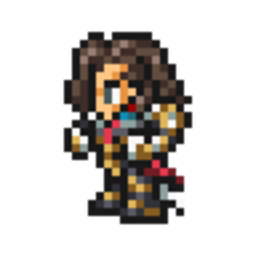 The third son of the Archadian emperor, and likely candidate to succeed the throne. Vayne plots to begin a war with the Rozarrian Empire, and thereby end the smaller conflicts raging throughout Ivalice. Though cold and calculating, he holds true affection for his younger brother, Larsa.
World: FF XII
Consul of Rabanastre
Role
Physical/Magic Hybrid
Wields fist weapons and rods. Can use rare combat and black magic abilities, buffing his Attack and Magic to deal heavy damage.


Memory Crystal
Hall of Rites


Memory Crystal II
Hall of Rites


Memory Crystal III
Hall of Rites


Stats
| | | |
| --- | --- | --- |
| | Starting Value | Lv 99 |
| HP | 204 | 6625 |
| Attack | 12 | 209 |
| Defense | 8 | 142 |
| Magic | 12 | 211 |
| Resistance | 7 | 123 |
| Mind | 6 | 99 |
| Accuracy | 20 | 25 |
| Evasion | 20 | 25 |
| Speed | 80 | 129 |
Soul Break
| | |
| --- | --- |
| Soul Break | Effect |
| Pummel(Vayne) | Deal three ranged physical attacks to one target. |
Super Soul Break Equipment (Unique)
Burst Soul Break Equipment (Unique)
Burst Mode Abilities
| | |
| --- | --- |
| Hand of Empire | Deal four physical dark and non-elemental attacks to one target, and restore a small amount of HP to the user based on their max HP. |
| Culling of Darkness | Deal four magic dark and non-elemental attacks to one target, and restore a small amount of HP to the user based on their max HP. |
Overstrike Soul Break Equipment (Unique)
Ultra Soul Break (Unique)
Record Materia
| | |
| --- | --- |
| | Gain a small amount of Defense. Amount gained increases as HP drops. |
| | Gain a small amount of Attack and Magic when a fist weapon is equipped. |
| | Gain a moderate amount of Attack, and avoid one magic attack.(Effective against most spells. Can only trigger once per battle.) |
Legend Materia
| | |
| --- | --- |
| | Increase dark damage a small amount. |
| | Moderate chance for offensive dark abilities to trigger twice. |
| | Begin battle temporarily infused with the power of the dark. |
Useable Ability
Black Magic
(Rarity 5)
Combat
(Rarity 5)
Monk
(Rarity 5)
Darkness
(Rarity 6)