Reks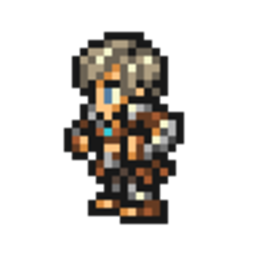 Reks is Vaan's elder brother by two years. He harbors no love of bloodshed, but he willingly joins the Order of the Knights of Dalmasca to defend his homeland in time of war. Reks acquits himself bravely in battle, but he is soon caught up as an unwitting pawn in an imperial plot to assassinate the king.
World: FF XII
Dalmascan Soldier
Role
Physical/Magic Hybrid
Wields swords and spears. Can use rare spellblade abilities, buffing his Attack to deal powerful physical elemental attacks.


Stats
| | | |
| --- | --- | --- |
| | Starting Value | Lv 99 |
| HP | 203 | 6611 |
| Attack | 12 | 209 |
| Defense | 9 | 155 |
| Magic | 10 | 172 |
| Resistance | 7 | 129 |
| Mind | 9 | 155 |
| Accuracy | 21 | 26 |
| Evasion | 20 | 25 |
| Speed | 98 | 159 |
Soul Break
| | |
| --- | --- |
| Soul Break | Effect |
| Cure (XII)(Reks) | Restore a moderate amount of HP to one target. |
Super Soul Break Equipment (Unique)
Burst Soul Break Equipment (Unique)
Burst Mode Abilities
| | |
| --- | --- |
| Elemental Strike | Deal four physical lightning and ice attacks to one target. Deals more damage if the target has a Slight Weakness or is Vulnerable to lightning or ice. |
| Healing Edge | Deal four physical attacks to one target, and restore a small amount of HP to one ally proportional to their max HP. |
Ultra Soul Break (Unique)
Details
| | |
| --- | --- |
| Awoken Mode | Awoken Lightning Mode |
| Awoken Mode Effects | Grant unlimited use of lightning abilities, grant up to a moderate Lightning Ability Boost, and cause lightning abilities used by the user to trigger twice. |
Record Materia
| | |
| --- | --- |
| | Deal slightly more damage with spellblade abilities. |
| | Deal significantly more damage when attacking with an enemy's elemental weakness. |
| | Attack has a small chance to become Thundering Quadstrike. |
Legend Materia
| | |
| --- | --- |
| | Deal slightly more damage with spellblade abilities. |
| | Moderate chance for spellblade abilities to trigger twice. |
| | Small chance to restore a moderate amount of HP to one ally proportional to their max HP when a spellblade ability triggers. |
Useable Ability
Black Magic
(Rarity 4)
White Magic
(Rarity 4)
Spellblade
(Rarity 5)
Combat
(Rarity 5)
Knight
(Rarity 3)