Xezat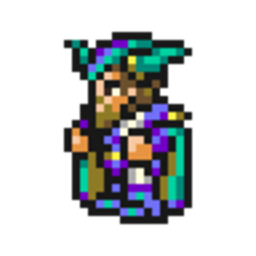 The lord of Surgate Castle, and one of the four Warriors of Dawn. Xezat is not only a skilled swordsman, but also a clever tactician.
World: FF V
King of Surgate
Role
Physical/Magic Hybrid
Wields swords and daggers. Can use rare spellblade abilities, buffing his Attack to deal powerful physical elemental attacks.


Memory Crystal
Hall of Rites


Memory Crystal II
Hall of Rites


Memory Crystal III
Hall of Rites


Stats
| | | |
| --- | --- | --- |
| | Starting Value | Lv 99 |
| HP | 203 | 6611 |
| Attack | 12 | 207 |
| Defense | 9 | 153 |
| Magic | 10 | 175 |
| Resistance | 8 | 140 |
| Mind | 8 | 149 |
| Accuracy | 21 | 27 |
| Evasion | 20 | 25 |
| Speed | 87 | 140 |
Super Soul Break Equipment (Unique)
Burst Soul Break Equipment (Unique)
Burst Mode Abilities
| | |
| --- | --- |
| Roaring Frostblade | Deal three ranged physical ice and lightning attacks to one enemy, and increase the damage of the user's spellblade abilities a small amount for three turns. |
| Chilling Stormfront | Deal two ranged physical ice and lightning attacks to all enemies, temporarily lower the user's Defense a moderate amount, and raise the user's Attack a moderate amount. |
Ultra Soul Break (Unique)
Arcane Overstrike (Unique)
Details
| | |
| --- | --- |
| Awoken Mode | Awoken Spellblade Mode |
| Awoken Mode Effects | Grant unlimited use of spellblade abilities, grant up to a moderate Spellblade Ability Boost, and cause spellblade abilities used by the user to trigger twice. |
Record Materia
| | |
| --- | --- |
| | Moderate chance to restore 1 spellblade ability use at the start of battle. |
| | Deal significantly more damage with spellblade abilities. |
| | Attack has a small chance to become Frost Strike. |
Legend Materia
| | |
| --- | --- |
| | Deal slightly more damage with spellblade abilities. |
| | Moderate chance to restore one ability use to the user's ability with the fewest remaining uses when an ice attack triggers and deals damage. |
| | Small chance for spellblade abilities to trigger twice. |
| | Deal significantly more damage with spellblade abilities when a sword is equipped. |
Useable Ability
Black Magic
(Rarity 4)
Spellblade
(Rarity 5)
Combat
(Rarity 4)
Knight
(Rarity 3)