Kelger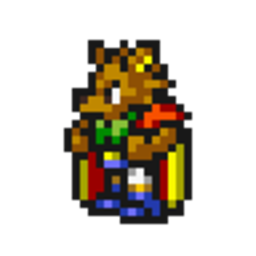 One of the four Warriors of Dawn, and leader of Quelb, a town inhabited by werewolves. Though Kelger's age finally takes its toll on him, his sense of justice and hatred of evil are undiminished.
World: FF V
Werewolf Tribe Leader
Role
Physical Speed
Wields daggers and wears light armor. Can use rare ninja abilities, drastically reducing the time between actions in battle.


Memory Crystal
Hall of Rites


Memory Crystal II
Hall of Rites


Memory Crystal III
Hall of Rites


Stats
| | | |
| --- | --- | --- |
| | Starting Value | Lv 99 |
| HP | 201 | 6538 |
| Attack | 12 | 206 |
| Defense | 8 | 142 |
| Magic | 9 | 161 |
| Resistance | 8 | 143 |
| Mind | 8 | 136 |
| Accuracy | 20 | 25 |
| Evasion | 25 | 32 |
| Speed | 116 | 187 |
Soul Break
| | |
| --- | --- |
| Soul Break | Effect |
| Lupine Fang(Kelger) | Deal two physical attacks to one enemy, and grant Mirror Image to the user. |
Super Soul Break Equipment (Unique)
Burst Soul Break Equipment (Unique)
Burst Mode Abilities
| | |
| --- | --- |
| Lupine Claw | Deal four physical earth and wind attacks to one enemy. Reduced delay before hitting. |
| Lupine Evasion | Deal two physical earth and wind attacks to one enemy, and grant Mirror Image to the user. Reduced delay before hitting. |
Ultra Soul Break (Unique)
Arcane Overstrike (Unique)
Details
| | |
| --- | --- |
| Awoken Mode | Awoken Ninja Mode |
| Awoken Mode Effects | Grant unlimited use of ninja abilities, grant up to a moderate Ninja Ability Boost, and cause ninja abilities used by the user to trigger twice. |
Record Materia
| | |
| --- | --- |
| | Moderate chance to restore 1 celerity ability use at the start of battle. |
| | Moderate chance to begin battle with a full ATB gauge. |
| | Attack becomes an instant physical attack that deals very heavy damage, but no longer fills the Soul Break gauge. |
Legend Materia
| | |
| --- | --- |
| | Slightly increases earth damage. |
| | Moderate chance to reduce delay of the user's actions for three turns when a ninja ability triggers. |
| | Small chance to grant the user Mirror Image, enabling them to avoid one physical attack when a ninja ability triggers. |
| | Begin battle temporarily infused with the power of earth. |
| | Small chance for ninja abilities to trigger twice. |
Useable Ability
Combat
(Rarity 5)
Celerity
(Rarity 5)
Thief
(Rarity 4)
Ninja
(Rarity 5)