Gogo (VI)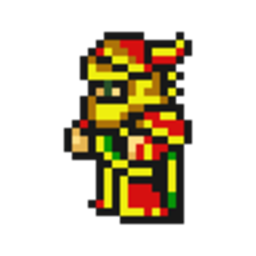 A mimic shrouded in mystery whose age, gender, and origin are unknown. A practiced practitioner of the mimic arts, Gogo joins Celes and the others on their quest to save the world, and mimics those in the party.
World: FF VI
Mimic
Role
Physical/Magic Hybrid
Wields swords and wears helms. Can use rare combat, white magic, and black magic abilities, enabling him to employ physical or magic attacks, depending on the situation.


Memory Crystal
Hall of Rites


Memory Crystal II
Hall of Rites


Memory Crystal III
Hall of Rites


Stats
| | | |
| --- | --- | --- |
| | Starting Value | Lv 99 |
| HP | 181 | 5876 |
| Attack | 11 | 199 |
| Defense | 7 | 130 |
| Magic | 12 | 211 |
| Resistance | 7 | 127 |
| Mind | 11 | 203 |
| Accuracy | 20 | 25 |
| Evasion | 20 | 25 |
| Speed | 80 | 129 |
Soul Break
| | |
| --- | --- |
| Soul Break | Effect |
| Mimic(Gogo (VI)) | Mimic the previous ally's action. If the attempt to mimic fails, deal a physical attack instead. |
Super Soul Break Equipment (Unique)
Burst Soul Break Equipment (Unique)
Burst Mode Abilities
| | |
| --- | --- |
| Quick Mime | Mimic the previous ally's action. Reduced delay before triggering. Mimics most actions. |
| Adapting Attack | Deal four physical or magic non-elemental attacks to one target. Attack type depends on the user's stats. |
Bravery Abilities
Mimic (VI)

Lv0
Deal physical or magic non-elemental damage to one enemy. Reduced delay before hitting. Attack type depends on the stats of the user.
Lv1
Mimic the previous ally's action. Reduced delay before triggering. Mimics most actions.
Lv2
Mimic the previous ally's action two times. Reduced delay before triggering. Mimics most actions.
Lv3
Mimic the previous ally's action three times. Reduced delay before triggering. Mimics most actions.

Raising Bravery Level

Use Black Magic or Combat Ability
Record Materia
| | |
| --- | --- |
| | Very slight chance to gain Protect after taking physical damage. |
| | Begin battle with Regen, and gain a moderate bonus to Mind. |
| | Gain a moderate amount of Defense and Resistance when a helm is equipped. |
Legend Materia
| | |
| --- | --- |
| | Increase the damage of Mimic a small amount. |
| | Increase the user's Attack and Magic up to a moderate amount, proportional to the number of times the user has used Mimic. |
| | Moderate chance for Mimic to reduce delay of user's actions for one turn. |
| | Increase the damage of Mimic a moderate amount. |
Useable Ability
Black Magic
(Rarity 5)
White Magic
(Rarity 5)
Combat
(Rarity 5)