Reno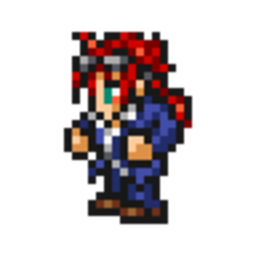 A young man with fiery red hair. Reno comes across as irresponsible, and even lazy, but in fact he takes his work with the Turks more seriously than most. He makes a point of never mixing business with pleasure.
World: FF VII
Turk
Role
Physical/Magic Hybrid
Wields rods and fist weapons. Can use rare black magic abilities, buffing his Magic to deal heavy elemental magic damage.


Memory Crystal III
Hall of Rites


Stats
| | | |
| --- | --- | --- |
| | Starting Value | Lv 99 |
| HP | 204 | 6616 |
| Attack | 11 | 202 |
| Defense | 9 | 151 |
| Magic | 11 | 202 |
| Resistance | 10 | 172 |
| Mind | 6 | 105 |
| Accuracy | 20 | 25 |
| Evasion | 20 | 25 |
| Speed | 102 | 165 |
Soul Break
| | |
| --- | --- |
| Soul Break | Effect |
| Electrostatic Rod(Reno) | Deal physical lightning damage to one target, with a small chance to Stop it. |
Soul Break Equipment (Unique)
Super Soul Break Equipment (Unique)
Burst Soul Break Equipment (Unique)
Burst Mode Abilities
| | |
| --- | --- |
| Trine Combo | Deal between one and eight ranged physical lightning and non-elemental attacks to one target. The number of attacks dealt increases the more times the ability is used. |
| Stun Rod | Deal four ranged physical lightning and non-elemental attacks to one target, with a moderate chance to interrupt its pending actions. |
Ultra Soul Break (Unique)
Bravery Abilities
Spark Rod

Lv0
Deal ranged physical or magic lightning damage to one enemy. Attack type depends on the user's stats.
Lv1
Deal ranged physical or magic lightning damage to one enemy. Attack type depends on the user's stats. Can break the damage cap.
Lv2
Deal ranged physical or magic lightning damage to one enemy. Attack type depends on the user's stats. Can break the damage cap.
Lv3
Deal ranged physical or magic lightning damage to one enemy. Attack type depends on the user's stats. Can break the damage cap.

Raising Bravery Level

Use Lightning Ability
Chain Soul Break (Unique)
Chain Soul Break Mechanics
| | |
| --- | --- |
| Effect | Allies deal slightly more lightning damage. |
| Chain Type | Lightning element attacks |
Arcane Overstrike (Unique)
Record Materia
| | |
| --- | --- |
| | Attack has a small chance to become Stop. |
| | Deal significantly more physical and black magic damage when a rod is equipped. |
| | Attack has a small chance to become Tempest Snipe. |
Legend Materia
| | |
| --- | --- |
| | Increase lightning damage a small amount. |
| | Moderate chance for offensive lightning abilities to trigger twice. |
| | Begin battle temporarily infused with the power of lightning. |
Useable Ability
Black Magic
(Rarity 5)
Combat
(Rarity 4)
Celerity
(Rarity 5)
Machinist
(Rarity 5)