Fujin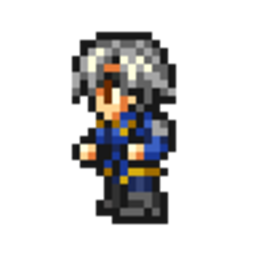 A silver-haired woman who forms part of the Balamb Garden Disciplinary Committee. Fujin is known for her direct and terse manner of speaking. She adores Seifer, blindly following his every decision.
World: FF VIII
Disciplinary Committee
Role
Physical/Magic Hybrid
Wields rods and wears hats. Can use rare black magic abilities, buffing her Magic to deal heavy elemental magic damage.


Memory Crystal
Hall of Rites


Memory Crystal II
Hall of Rites


Memory Crystal III
Hall of Rites


Stats
| | | |
| --- | --- | --- |
| | Starting Value | Lv 99 |
| HP | 182 | 5911 |
| Attack | 8 | 148 |
| Defense | 7 | 115 |
| Magic | 12 | 212 |
| Resistance | 9 | 156 |
| Mind | 9 | 160 |
| Accuracy | 20 | 25 |
| Evasion | 20 | 25 |
| Speed | 98 | 159 |
Soul Break Equipment (Unique)
Super Soul Break Equipment (Unique)
Burst Soul Break Equipment (Unique)
Burst Mode Abilities
| | |
| --- | --- |
| Shitsu | Deal four magic wind and non-elemental attacks to one target. Reduced delay before hitting. |
| Hakai | Deal magic wind and non-elemental damage to one target, and temporarily lower its Resistance a moderate amount. Reduced delay before hitting. |
Overstrike Soul Break Equipment (Unique)
Ultra Soul Break (Unique)
Arcane Overstrike (Unique)
Record Materia
| | |
| --- | --- |
| | Attack has a moderate chance to cast Esuna on an ally. |
| | Wind attacks deal significantly more damage. |
| | Gain a moderate amount of Magic and a small amount of Resistance when a thrown weapon is equipped. |
Legend Materia
| | |
| --- | --- |
| | Increase wind damage a small amount. |
| | Moderate chance to reduce delay of the user's actions for three turns when using wind abilities. |
| | Begin battle temporarily infused with the power of wind. |
Useable Ability
Black Magic
(Rarity 5)
White Magic
(Rarity 4)
Support
(Rarity 4)
Ninja
(Rarity 5)
Sharpshooter
(Rarity 6)