Wol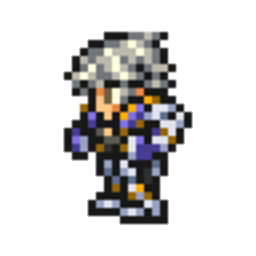 Wol is a "Blank," one of the young men who wash ashore the strange land of Palamecia without any memory of their past.
Through his travels, he learns a great deal about himself as much as the secrets behind the laws and the great prophecy that rule over Palamecia.
World: FF I
Blank
Role
Physical Speed
Proficient with a variety of weapons and armor, with a focus on swords and katanas. Can use a wide range of abilities.


Memory Crystal
Hall of Rites


Memory Crystal II
Hall of Rites


Memory Crystal III
Hall of Rites


Stats
| | | |
| --- | --- | --- |
| | Starting Value | Lv 99 |
| HP | 212 | 6889 |
| Attack | 11 | 202 |
| Defense | 8 | 141 |
| Magic | 7 | 120 |
| Resistance | 8 | 149 |
| Mind | 8 | 135 |
| Accuracy | 20 | 25 |
| Evasion | 26 | 33 |
| Speed | 111 | 179 |
Soul Break Equipment (Unique)
Super Soul Break Equipment (Unique)
Burst Soul Break Equipment (Unique)
Burst Mode Abilities
| | |
| --- | --- |
| Sneaky Attack | Deal four physical attacks to one enemy, with a moderate chance to interrupt its pending action. |
| Break Slayer | Deal two physical attacks to all enemies, and temporarily lower their Attack and Defense a small amount. |
Ultra Soul Break (Unique)
Record Materia
| | |
| --- | --- |
| | Gain a small amount of Defense when light armor is equipped. |
| | Attack has a small chance to deal a very large amount of additional damage. |
| | Gain a moderate amount of Attack and a small amount of Defense when light armor is equipped. |
Useable Ability
Combat
(Rarity 3)
Support
(Rarity 4)
Celerity
(Rarity 4)
Dragoon
(Rarity 3)
Monk
(Rarity 4)
Thief
(Rarity 4)
Samurai
(Rarity 4)
Sharpshooter
(Rarity 6)
Heavy Physical
(Rarity 5)