Emperor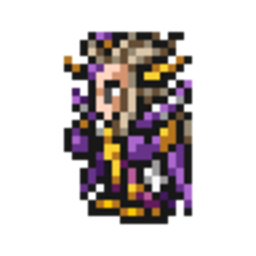 The leader of Palamecia, a militaristic empire bent on world domination. The Emperor has an insatiable lust for power, and he wields terrible magic to summon demons to do his bidding. The armies of Palamecia have brought countless kingdoms under his rule.
World: FF II
Emperor of Palamecia
Role
Offensive Magic
Wields rods and staves. Can use rare black magic and darkness abilities, allowing access to a wide array of spells.


Memory Crystal
Hall of Rites


Memory Crystal II
Hall of Rites


Memory Crystal III
Hall of Rites


Stats
| | | |
| --- | --- | --- |
| | Starting Value | Lv 99 |
| HP | 182 | 5911 |
| Attack | 5 | 90 |
| Defense | 8 | 132 |
| Magic | 12 | 211 |
| Resistance | 10 | 187 |
| Mind | 10 | 184 |
| Accuracy | 20 | 25 |
| Evasion | 20 | 25 |
| Speed | 81 | 132 |
Super Soul Break Equipment (Unique)
Burst Soul Break Equipment (Unique)
Burst Mode Abilities
| | |
| --- | --- |
| Binding Gale | Deal four magic wind and dark attacks to one target, with a moderate chance to interrupt its pending actions. |
| Leeching Winds | Deal magic wind and dark damage to one target, healing the user for a portion of the damage dealt. |
Burst Mode Abilities
| | |
| --- | --- |
| Ruthless Ploy | Deal four magic earth and dark attacks to one target, and reduce delay of the user's actions for two turns. |
| Onyx Crest | Deal two magic earth and dark attacks to one target, and temporarily lower its Magic a large amount. |
Ultra Soul Break (Unique)
Record Materia
| | |
| --- | --- |
| | Very small chance to counter physical attacks with a magic wind attack that deals light damage. |
| | Attack becomes a group magic wind attack that deals light damage. |
| | Attack has a high chance to become Drain. |
Legend Materia
| | |
| --- | --- |
| | Increase black magic damage a small amount. |
| | Moderate chance to counter black magic by lowering the attacker's earth resistance level by 1. |
| | When low on HP, restore HP to the user and temporarily reduce delay of their actions. Can only trigger once per battle. |
| | Begin battle temporarily infused with the power of earth. |
Useable Ability
Black Magic
(Rarity 5)
White Magic
(Rarity 4)
Summoning
(Rarity 4)
Darkness
(Rarity 6)