Onion Knight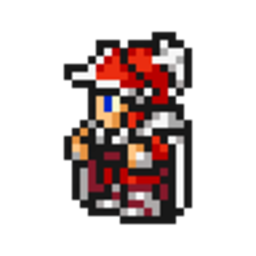 Chosen by the Wind Crystal to become a Warrior of Light when he wandered into the Altar Cave, whereupon he set out from his village on a quest to save the world. Though the Onion Knight's abilities were meager at the outset, he finally gained the power to stand against the source of the world's unrest itself.
World: FF III
Onion Knight
Role
Physical/Magic Hybrid
Proficient with a variety of weapons and armor. His stats grow by leaps and bounds beyond level 93.


Memory Crystal III
Hall of Rites


Stats
| | | |
| --- | --- | --- |
| | Starting Value | Lv 99 |
| HP | 209 | 6800 |
| Attack | 11 | 205 |
| Defense | 7 | 130 |
| Magic | 12 | 211 |
| Resistance | 7 | 130 |
| Mind | 11 | 203 |
| Accuracy | 20 | 25 |
| Evasion | 20 | 25 |
| Speed | 108 | 175 |
Super Soul Break Equipment (Unique)
Burst Soul Break Equipment (Unique)
Burst Mode Abilities
| | |
| --- | --- |
| Extra Slice | Deal four physical attacks to one target, and remove delay from the user's physical attacks for one turn. |
| Swiftspell | Deal four magic non-elemental attacks to one target, and remove delay from the user's magic attacks for one turn. |
Overstrike Soul Break Equipment (Unique)
Ultra Soul Break (Unique)
Record Materia
| | |
| --- | --- |
| | Gain a small amount of Magic when a staff is equipped. |
| | Small chance for the user to earn double EXP. |
| | Gain a moderate amount of Magic and a small amount of Mind when a staff is equipped. |
Legend Materia
| | |
| --- | --- |
| | Moderate chance for celerity abilities to trigger twice. |
| | Moderate chance for black magic abilities to trigger twice. |
| | Begin battle with no action delay for two turns. |
Useable Ability
Black Magic
(Rarity 3)
White Magic
(Rarity 3)
Combat
(Rarity 3)
Support
(Rarity 3)
Celerity
(Rarity 3)
Ninja
(Rarity 3)