Wedge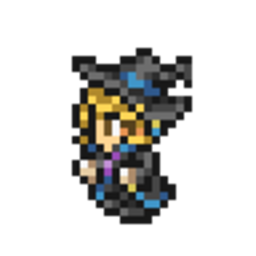 An Arcanium agent. Wedge is shrewd and calculating, but also kind at heart, and he has a fondness for animals. Though not the bravest of agents, he performs his duties with earnest fervor.
World: Core Classes
Arcanium Agent
Role
Physical/Magic Hybrid
Wields daggers and rods. Can use rare celerity abilities, slowing enemies and hastening allies to outmaneuver his foes.


Memory Crystal
Hall of Rites


Memory Crystal II
Hall of Rites


Memory Crystal III
Hall of Rites


Stats
| | | |
| --- | --- | --- |
| | Starting Value | Lv 99 |
| HP | 186 | 6041 |
| Attack | 11 | 202 |
| Defense | 7 | 125 |
| Magic | 12 | 212 |
| Resistance | 7 | 123 |
| Mind | 5 | 90 |
| Accuracy | 20 | 25 |
| Evasion | 20 | 25 |
| Speed | 102 | 165 |
Ultra Soul Break (Unique)
Details
| | |
| --- | --- |
| Awoken Mode | Awoken Wind Mode |
| Awoken Mode Effects | Grant unlimited use of wind abilities, grant up to a moderate Wind Ability Boost, and cause wind abilities used by the user to trigger twice. |
Details
1

Vacuum Cutter

Deal six ranged physical or magic wind and non-elemental attacks to one enemy. Attack type depends on the user's stats.

Sync Requirements

Wind Ability

2

Wind Booster

Deal three ranged physical or magic wind and non-elemental attacks to one enemy, raise the user's wind attack level by 1, and temporarily lower the enemy's wind resistance level by 1 every second time the user triggers this ability. Reduced delay before hitting. Attack type depends on the user's stats.

Sync Requirements

Wind Ability
Limit Break Overstrikes (Unique)
Record Materia
| | |
| --- | --- |
| | Deal slightly more physical damage when a hat is equipped. |
| | Deal significantly more black magic damage when a hat is equipped. |
| | Deal much more wind damage. |
Legend Materia
| | |
| --- | --- |
| | Increase wind damage a small amount. |
| | Moderate chance for offensive wind abilities to trigger twice. |
| | Begin battle temporarily infused with the power of wind. |
| | Moderate chance for wind abilities used by the user to trigger the follow-up ability Spiral Arc, dealing four ranged physical or magic wind and non-elemental attacks to one enemy. Attack type depends on the user's stats. |
Useable Ability
Black Magic
(Rarity 3)
Support
(Rarity 5)
Celerity
(Rarity 5)
Thief
(Rarity 5)