Tyro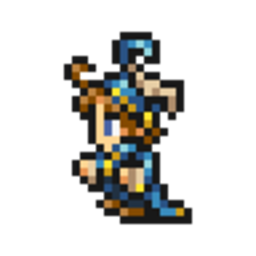 An avid, if young, historian in the Royal Archives, and Dr. Mog's top student. Entering the Record Realms via Dr. Mog's magic, he relives the struggles of the past in order to restore the faded records.
World: Core Classes
Keeper
Role
Physical/Magic Hybrid
Uses a variety of equipment and abilities, and has well-rounded stats. Suitable for multiple roles in battle.


Stats
| | | |
| --- | --- | --- |
| | Starting Value | Lv 99 |
| HP | 120 | 6800 |
| Attack | 8 | 131 |
| Defense | 7 | 130 |
| Magic | 7 | 130 |
| Resistance | 7 | 130 |
| Mind | 7 | 130 |
| Accuracy | 20 | 25 |
| Evasion | 20 | 25 |
| Speed | 81 | 130 |
Soul Break Equipment (Unique)
Super Soul Break Equipment (Unique)
Burst Soul Break Equipment (Unique)
Burst Mode Abilities
| | |
| --- | --- |
| Book of Despair | Temporarily reduce Attack and Magic of one enemy a small amount. |
| Book of Retribution | Temporarily reduce Defense and Resistance of one enemy a small amount. |
Overstrike Soul Break Equipment (Unique)
Ultra Soul Break (Unique)
Record Materia
| | |
| --- | --- |
| | Deal slightly more damage when attacking with an enemy's elemental weakness. |
| | Deal significantly more damage when attacking with an enemy's elemental weakness. |
| | Begin dungeons with 2 Soul Break charges. |
| | Deal much more damage when attacking with an enemy's elemental weakness. |
Legend Materia
| | |
| --- | --- |
| | Reduce black magic damage taken a small amount. |
| | Increase the duration of stat buffs generated by the user and their related effects a moderate amount. Applies to most stat buffs and their effects. |
| | Begin battle with no action delay for two turns. |
Useable Ability
Black Magic
(Rarity 5)
White Magic
(Rarity 5)
Summoning
(Rarity 5)
Spellblade
(Rarity 5)
Combat
(Rarity 5)
Support
(Rarity 5)
Celerity
(Rarity 5)
Dragoon
(Rarity 5)
Monk
(Rarity 5)
Thief
(Rarity 5)
Knight
(Rarity 5)
Samurai
(Rarity 5)
Ninja
(Rarity 5)
Bard
(Rarity 5)
Dancer
(Rarity 5)
Machinist
(Rarity 5)
Darkness
(Rarity 5)
Sharpshooter
(Rarity 6)
Witch
(Rarity 6)
Heavy Physical
(Rarity 5)