Shadowsmith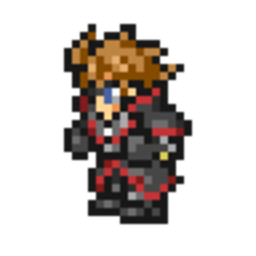 A man who rose to power withn the Royal Arcanium at a young age. His skill and charm make him popular within and without the Arcanium.
World: Core Classes
Special Director
Role
Physical/Magic Hybrid
Uses a variety of equipment and abilities, and has well-rounded stats. Suitable for multiple roles in battle.


Stats
| | | |
| --- | --- | --- |
| | Starting Value | Lv 50 |
| HP | 120 | 3460 |
| Attack | 8 | 69 |
| Defense | 7 | 68 |
| Magic | 7 | 68 |
Resistance|7|68|
| | | |
| --- | --- | --- |
| Mind | 7 | 68 |
| Accuracy | 20 | 22 |
| Evasion | 20 | 22 |
| Speed | 81 | 105 |
Useable Ability
Black Magic
(Rarity 5)
White Magic
(Rarity 5)
Summoning
(Rarity 5)
Spellblade
(Rarity 5)
Combat
(Rarity 5)
Support
(Rarity 5)
Celerity
(Rarity 5)
Dragoon
(Rarity 5)
Monk
(Rarity 5)
Thief
(Rarity 5)
Knight
(Rarity 5)
Samurai
(Rarity 5)
Ninja
(Rarity 5)
Bard
(Rarity 5)
Dancer
(Rarity 5)
Machinist
(Rarity 5)
Darkness
(Rarity 5)
Sharpshooter
(Rarity 5)
Witch
(Rarity 5)
Heavy Physical
(Rarity 5)